2011 RAM 1500
Although I am an 11 year driver of the Jeep Grand Cherokee, I have also had the opportunity to experience the superior ride, comfort, and utility of the
Ram 1500 Pickup
.
Whether you drive a pickup because you haul and tow cargo regularly, whether you drive a pickup because you like the performance, or whether you drive it because you like its looks, the 2011 Dodge Ram Pickup 1500 is well worth your attention.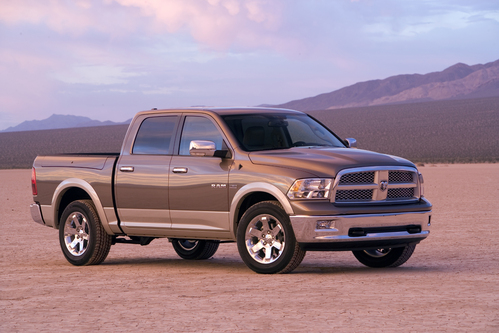 Exterior Features
The 2011 model of the Dodge Ram 1500 stays with its distinctively aggressive grill profile that garnered praise with last year's model. A closer look at this profile shows that the grill and front fascia actually slant forward, which gives the truck a perceptible look of forward motion. Part of this style's allure is that it adds function to form. The body style is aerodynamic, cutting gas consumption on the highway, and reducing wind resistance noise. Dodge offers the 2011 Ram 1500 in three cab options: standard two-door regular cab, the extended Quad Cab with two small rear doors, or the full-size Crew Cab four regular doors and full-size back seating. Two cargo beds are also available at 6.3 feet and 8 feet long. A rear step bumper, automatic headlights, and 17-inch wheels come standard. Bed liners, heated door mirrors, and running boards are available as options.
Interior Features
The interior of the 2011 Dodge Ram 1500 remains basically similar to its 2010 configuration. A variety of trim levels are available to meet the needs of all sorts of truck owners, including a basic ST model that will be a good company workhorse, an SLT model with the available Big Horn package, and a luxury Laramie version. Features vary by trim level. The basic model offers air conditioning, a stereo with a CD player, and an auxiliary audio port. Higher level trims offer options like leather upholstery, navigation, U-Connect Bluetooth compatibility, an upgraded audio system, and remote engine start.
Your passengers will appreciate the luxury and comfort of this rig's roomy 3-person front bench seat and optional rear seat video including surround sound features. You can add satellite TV and voice-activated navigation capability, too. For road trips in style, choose the lined rear wells option to accommodate the beverages of your choice plus ice. Add on a Ram Box cargo bed with lockable plastic bins for all your tools and toys, and you're good to go anywhere.
Build and Price
your own Dodge Ram on our website at
www.PerryAutoGroup.com
Performance
The Ram 1500 is a vehicle that offers a comfortable ride, and even has car-like qualities. The engines are powerful, and the 2011 Dodge Ram 1500 offers excellent performance. The 5.7L Hemi V8 engine will pull up to 10,250 pounds when equipped for towing. The Ram 1500 is offered in rear and four-wheel drive models. Current Ram trucks are available with four or five speed automatic transmissions.
Your family will appreciate the smooth ride afforded by the Ram 1500. Utilizing coil springs in its rear suspension rather than the stiffer rear leaf springs installed in most pickups, the Dodge Ram 1500 rides more like a limo than a truck. Owners rave about the stability of the ride and the ample power of the Hemi engine. Not only is this rig smooth, it's quick and responsive, going from 0 to 60 mph in a scant 6 seconds. But with the 5-speed automatic Hemi V-8, it's no gas hog. 13 city and 18 highway deliver un-truck-like fuel efficiency.
The pros of purchasing a 2011 Dodge Ram Pickup 1500 abound. Compared to other vehicles in its class, the Ram rises to the top of its class. A smooth, stable ride, better fuel efficiency than similar pickups, top of the line audio/visual tech features, and plenty of power to tow optimum loads make this rig a top contender. If you're in the market for a truck this year, you should make a point to add this truck to your "must see" list.